IV Sedation
ALLEVIATE ANY FEARS YOU MAY HAVE OF THE DENTIST
IV Sedation Melbourne CBD
At Art De Dente Melbourne CBD, we realise that the dentist for some people can be a worrying and very stressful experience for them, this is why we offer sedation dentistry to help alleviate any fears you may have of the dentist.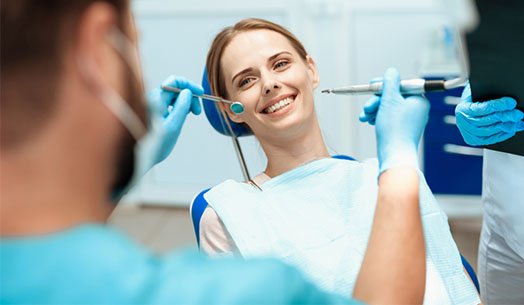 Sedation dentistry is the most advanced form of dental sedation.
It uses a combination of sedative and pain-relieving drugs given intravenously to create a dream-like state of deep, calming relaxation for the entire duration of your dental procedure.
Sedation dentistry is where you are put to sleep and covers a whole range of sedation including IV, happy gas and general anaesthesia.
This is commonly used for people who have a fear of the dentist performing any form of procedure on them, not just complex procedures.
How does IV Sedation work?
During your dental appointment, your Melbourne CBD dentist will introduce a thin needle into a vein on the hand or arm.
The needle is connected to an IV tube that transports the sedative directly into the bloodstream.
A numbing cream is applied to the area that will be pricked by the needle if you have a fear of needles.
Some patients stay with the IV for the whole procedure while others might not. In this case, the drug is administered, and the needle is removed.
Both situations achieve the same level of conscious sedation. Your Melbourne CBD dentist will monitor your pulse and oxygen levels to ensure you don't have a negative reaction to the sedative drug.
Blood pressure will also be monitored before and after the procedure.You might feel a slightly groggy after the procedure. For this, have a family member or friend drive you home.
It's also advisable to take the full day-off so that you can have sufficient rest.
IV Sedation in Melbourne CBD
An IV sedation is a great option if you have a fear of needles, the dentist, or dental procedures.
Your Melbourne CBD dentist may also recommend this type of sedation if you are undergoing such procedures as complex root canal treatments, dental implant placement, and tooth extractions.
Call us on (03) 9642 8955 or request an appointment online.
We are located at Level 17, 190 Queen Street in Melbourne CBD.
Frequently Asked Questions
What is IV sedation?
IV sedation involves administering a sedative through your veins. This allows it to work quickly, and it also gives your Melbourne CBD dentist an easy way to adjust the degree of sedation during treatment.
Will IV sedation put you to sleep?
IV sedation doesn't put a patient to sleep. Patients remain in a semi-awake state or a "twilight sleep."
You will have little to no memory of the events in the procedure when you receive IV sedation.
When is IV sedation used?
IV sedation may be recommended in several different circumstances. It can be required for patients that are anxious or fearful of the dentist and need more than nitrous oxide (happy/laughing gas) to help them calm down.
IV sedation is most commonly used for patients who undergo a more complex or long dental procedure, such as dental implants, extraction or a full mouth reconstruction.