Dental Microscope
GREATER PRECISION OF TREATMENT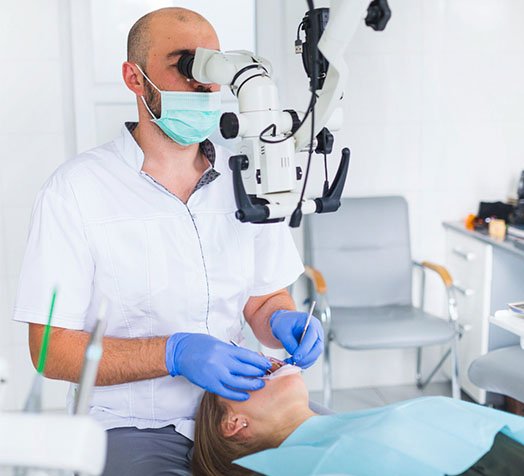 Dental Microscope Melbourne CBD
Dental microscopes allow your Melbourne CBD dentist to perform accurate and precision dental procedures.
This microscope is especially useful when performing cosmetic dental procedures, which require a high level of precision.
The dental microscope also has the option to attach a camera, which then lets your dentist shoot magnified hi-resolution images inside your mouth.
These detailed images will help you to better understand the condition of your gums and teeth and the procedures involved.
Uses of Dental Microscopes
Dental microscopes are most useful for:
Locating hidden tooth canals that have been obstructed by calcification and reduced in size
Removing materials like old solid filling materials
Removing obstructions in the canal
Preparing for access to avoid unnecessary destruction of tissues
Repairing perforations
Locating cracks and breakages that are invisible to the naked eye
Facilitating all aspects of endodontic surgery
Photographic uses and enhanced photographic documentation
Benefits of a Dental Microscope
Some of the main benefits of microscopes include:
High Efficiency
Efficiency is improved through visual enhancement, flexibility and reduced strain. Dental microscopes provide great visualisation while allowing for flexibility and reduced strain with an ergonomic design, which makes it easier to focus and concentrate with much better results than in a situation where the microscope is not used. A dental microscope will enhance both visualisation and comfort while enhancing performance.
Enhanced Quality of Treatment
With as much as 7 per cent of restorative treatment being the replacement of existing restorations, dentists need these microscopes for efficiency. Here, the patient benefits from minimised risks/damage minimised surgical intrusions and also quick recovery time due to the improved quality of care.
Improved Productivity
With such features as high-quality optics and other attachments, an ergonomic design also ensures increased productivity, given that your Melbourne CBD dentist would feel more relaxed and comfortable through the procedures, which would, in turn, see productivity increased.
To Educate the Patient
Through a video attachment, your Melbourne CBD dentist can easily educate and counsel our patients. By looking at an image or a video, your dentist will be able to advise various options, which both allow you to remain involved and also choose the best procedure possible, having visualised what their dental problem is.
Dental Microscope in Melbourne CBD
For just about every dentist, natural visuals have limits, and they can only do so much.
To overcome these, dentists need a high-quality microscope that will not only enhance precision but also minimise any risks.
Call us on (03) 9642 8955 or request an appointment online.
We are located at Level 17, 190 Queen Street in Melbourne CBD.
Frequently Asked Questions
What is a dental microscope?
A dental microscope is a veryimportant tool that allows your Melbourne CBD dentist with a better view through the magnification of the examined areas in your teeth and mouth.
What is the importance of microscopy to dentistry?
A dental microscope provides 400 times more visual accuracy than the naked eye and 100 times the visual information than traditional dental loupes.
Magnification improves the accuracy of the tooth preparations and margins, preventing damage to neighbouring teeth and connective tissues during all kinds of dental operations and surgery.