Broken Dentures
Same-Day Dental Emergency Appointment Available in Melbourne CBD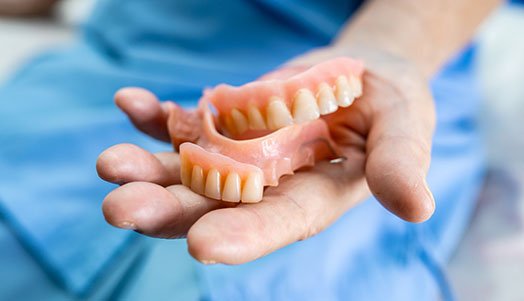 Broken Denture Repair Melbourne CBD
Dentures are designed to face typical tasks like chewing and biting, but dentures still are not as durable as natural teeth.
Dentures are not intended to last forever, and on average, most patients can get five to seven years out of a set.
While it may be tempting to fix a broken denture by yourself using household glues or super glue, most professionals will actively discourage it.
Common Causes of Broken Dentures
There are several different things that can lead to broken dentures, such as:
Natural Wear and Tear
Dentures often fracture due to a build-up of wear and tear. This is a process that gradually occurs over time.
After many years of use in which the denture undergoes cycles of daily wear, pressure from chewing and changes in temperature, it starts to wear down. Also, exposure to acidic foods can wear down a denture.
Accidents
Accidents can happen to anyone anytime, anywhere. Even the most careful person may meet an accident. Damage from dentures accidentally falling while cleaning is one example.
Abuse
Although made from durable materials, dentures have their limits. To maximise their functions, you have to follow safety measures. For example, using your dentures outside their functions or abusing their limitations can cause breakage.
Poor-fitting dentures
Poor-fitting dentures can be caused by progressive bone loss or poor dental work. If there is discomfort while wearing your dentures, visit your Melbourne CBD dentist immediately.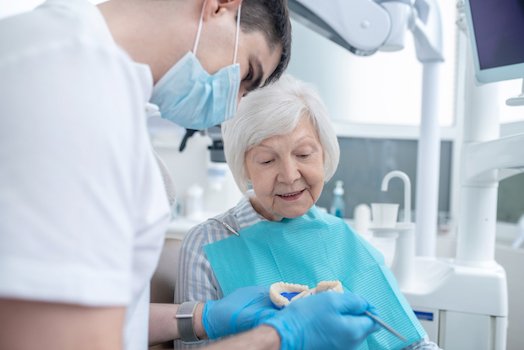 Broken Dentures: What to do?
Dental emergencies are unpredictable. However, watchfulness and caution can help lessen their effects.
When cleaning your dentures, check for cracks and holes. If there are cracks, do not attempt to repair them by yourself.
Call your Melbourne CBD dentist immediately to have your dentures checked right away.
What Your Melbourne CBD Dentist Can Do?
If properly cared for, dental implants can last years, and sometimes even for life! This means costs can be lower in the long term since dentures, in comparison, will need replacements frequently.
Art De Dente Melbourne CBD offers high-quality and durable dental implants as replacements for missing teeth.
Why Choose Dental Implants Over Dentures?
Dental implants cost more upfront than dentures, and therefore many people choose dentures without further investigating dental implants as an option.
When you consider the additional costs of dentures, including cleaning solutions, adhesives, repairs, and denture replacement, implants are a better financial solution and well worth the extra upfront cost.
With so many things at stake, like your overall health and self-esteem, we suggest you consult your Melbourne CBD dentist before reaching a decision.
At the end of the day, your dentist is your best resource to help you decide what option works best for you and your mouth. Remember that you may decide to start with dentures and eventually progress to dental implants, but dental implants are a more permanent option.
Denture Care Instructions
Handle with Care. Dentures are pretty fragile, so handle them as carefully as possible to reduce the risk of damage or needing repairs.
Rinse Well. Rinse your dentures with water after every meal to remove any food particles. If left there, the particles can lead to bad breath or gum disease.
Brush' Em. Brush your dentures every day for the best care possible. Choose a soft-bristled brush or a denture-specific brush to decrease the risk of damage. Make sure to use a denture-safe cleanser.
Let Them Soak. Dentures need to be moist and hydrated at all times. When your dentures aren't in your mouth, they should be soaking in water or a denture-soaking solution.
Visit Often. Maintain regular visits with your dentist at Art De Dente to ensure there are no problems, and your dentures are fitting and functioning well.
Broken Denture Repair in Melbourne CBD
If your denture breaks, see your dentist immediately for repair.
We may be able to repair your denture. We will advise you on all your options at your emergency appointment.
In case of an emergency, call your Melbourne CBD dentist right away.
Same-Day Dental Emergency Appointment Available in Melbourne CBD
For dental emergencies in Melbourne CBD, call us immediately on (03) 9642 8955 or book an appointment online.
We are located at Level 17, 190 Queen Street in Melbourne CBD.
Frequently Asked Questions
Can I still wear broken dentures?
DO NOT wear broken dentures. They can cause irritation or damage to the oral tissues, and small parts can be swallowed.
When should I visit the dentist if my dentures break?
As soon as possible. Never wear broken dentures. This can cause cuts in your mouth.
Can I repair my broken dentures?
NO. Fixing your dentures may cause more problems than help. Proper denture repair isn't possible without a dentist's knowledge and skill, as well as specialised equipment.
If you repair your denture by yourself, we may not be able to repair the denture in the office.