General Dentistry
General Dental Care in Melbourne CBD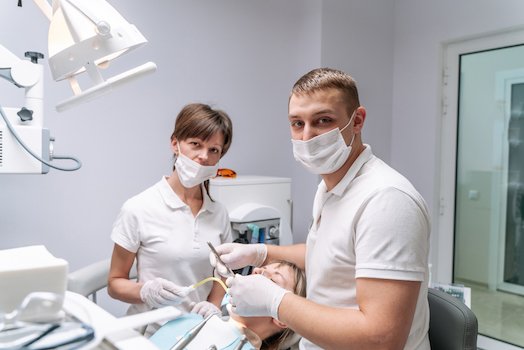 General Dentistry Melbourne CBD
The practice of general dentistry includes a wide array of services and procedures, all with a common goal.
(1) to help you to preserve your natural teeth as long as possible, (2) ensure your oral health, and (3) keep you looking and feeling great throughout life.
Oral health is a vital component of general health.
It is therefore of the utmost importance to maintain the health of your teeth, gums, and other supporting tissues.
General Dentistry Procedures
Modern dentistry offers a wide array of services to make sure your teeth stay healthy, function well and look great. These services include:
Cleanings & Examinations, to keep your teeth and gums healthy and detect early signs of dental disease
Dental Crowns & Bridgework, to replace lost tooth structure and/or missing teeth
Dental Implants, replacement teeth that last forever
Tooth Extractions, to eliminate unhealthy teeth that cannot be saved
Tooth-Coloured Fillings, to restore decayed teeth
Oral Cancer Examinations, to detect a dangerous disease that can be cured if caught early
Orthodontics, for straighter teeth you've always wanted
Removable Dentures, to help you smile again
Root Canal Treatment, to rescue infected teeth
Fissure Sealants, to help prevent cavities
TMD Treatment, for pain in the jaw that can interfere with biting and chewing
Tooth Decay Prevention, so you keep your natural teeth as long as possible
You may find that your general dentist also carries out a range of cosmetic dental procedures such as teeth whitening, veneers, lumineers and cosmetic bonding.
When Should I See The Dentist?
Visit your Melbourne CBD dentist every 6 months for preventive services—and otherwise, whenever you have a concern about your oral health.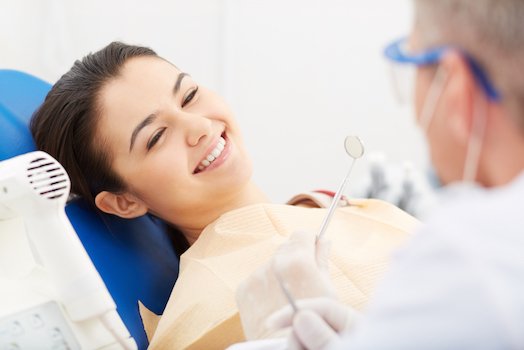 In routine dental appointments, there isn't a single schedule that fits all patients.
Depending on your circumstances, your Melbourne CBD dentist may want to see you more often than every 6 months.
Keeping up with the recommended schedule of preventive treatment and practising effective oral hygiene at home are the best ways to prevent dental diseases — and keep your smile looking bright and healthy for the rest of your life.
General Dentistry in Melbourne CBD
To learn more about our general dentistry services in Melbourne CBD, book in for a consultation today.
During your visit, you will meet our friendly dental team and explore our beautiful centre located in Melbourne CBD.
We provide customised treatments tailored only for you!
Call us on (03) 9642 8955 or request an appointment online.
We are located at Level 17, 190 Queen Street in Melbourne CBD.
Frequently Asked Questions
When should I take my child to the dentist for the first time?
Take your child for their first dental appointment when they are around 6 months old. If you notice that your child has discoloured teeth, bring them in before this.
What should I use to clean my child's teeth?
Use any soft-bristled toothbrush. There are ones designed for infants that are perfect to use at bedtime.
What should I do if my child has a toothache?
Rinse the affected area with lukewarm water and place a cold compress on your child's face if it is swollen. Make sure to see your Melbourne CBD dentist as soon as possible.
How can I prevent decay caused by nursing?
Avoid nursing children to sleep or putting anything other than water in their bedtime bottles. Make sure to teach your children the proper way to floss and brush. Taking your children to the dentist to have their teeth checked will help them learn lifelong habits.