Cone Beam Computed Tomography Scan (CB/CT Scan)
WHAT IS A CBCT SCAN, AND WHY DO YOU NEED ONE?
Cone Beam Computed Tomography Scan (CB/CT Scan) Melbourne CBD
Dental Cone Beam Computed Tomography or CB/CT is a method used for detailed imaging of the jaw in 3-dimension.
A special type of X-ray machine is used for an accurate analysis of your teeth, nerve pathways, soft tissues and bone by a single scan.
This machine is used in the event when a regular dental X-ray is insufficient.
The images show the basic component of teeth (enamel, dentin, and pulp) so that not one bit of the tooth will be missed if affected by any form of tooth decay or problems.
Uses of Dental Cone Beam Computed Tomography
Dental Cone Beam CT is usually used for the treatment planning of orthodontic issues.
Surgical planning for impacted teeth
Diagnosing temporomandibular joint disorder
Accurate placement of dental implants
Evaluation of jaw, sinuses, nerve canals and nasal cavity
Detecting, measuring and treating jaw tumours
Determining bone structure and tooth orientation
Locating the origin of pain or pathology
Cephalometric analysis
Reconstructive surgery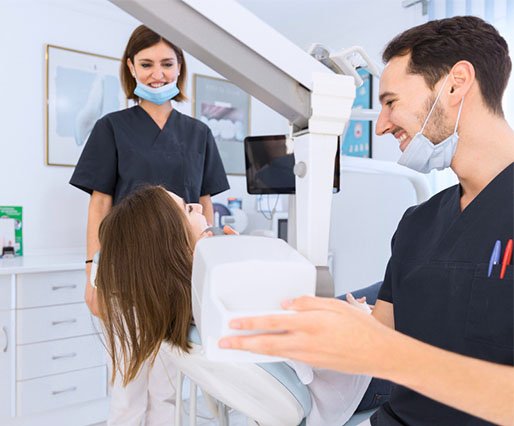 Cone Beam Computed Tomography Scan Procedure
You will be asked to sit in the dental chair or lie down on the exam table, depending on the type of scanner being used.
Your Melbourne CBD dentist will position you so that the area of interest is centred in the beam.
Stay still while the X-ray source and detector revolve around you for a 360-degree rotation or less.
Typically, this can take between 20 to 40 seconds for a complete volume, also called a full mouth X-ray, in which the whole mouth and dental structures are imaged, and less than 10 seconds for a regional scan that takes images on specific areas.
Cone Beam Computed Tomography Scan (CB/CT Scan) in Melbourne CBD
CBCT scanners create an instantaneous digital image, meaning there's no waiting for film to develop.
At Art De Dente, we're proud to offer this advanced technology because it allows us to provide every patient with more accurate, efficient & successful dental care.
Call us on (03) 9642 8955 or request an appointment online.
We are located at Level 17, 190 Queen Street in Melbourne CBD.
Frequently Asked Questions
What is Dental Cone Beam Computed Tomography?
Cone beam computed tomography (CT) is a type of X-ray machine used in cases where a regular dental or facial X-ray is not sufficient.
What will I experience during and after the procedure?
You will not experience any pain or discomfort during a cone beam CT exam, and you will be able to go back to your normal activities once the exam is complete.