Sports Mouthguards
Protect Your Teeth at Play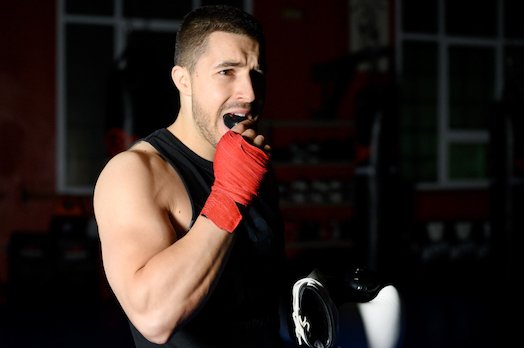 Sports Mouthguards Melbourne CBD
Do you play contact sports?
If so, you'll want to ask your dentist about getting a custom-made mouthguard. A mouthguard protects your teeth and gums if you're struck in the face.
Don't let your season get interrupted with a visit to your emergency dentist.
The best way to protect your smile is to invest in a comfortable mouthguard so you can play your best game.
Types of Sporting Dental Injuries
Common dental injuries incurred during sport or leisure activities include:
cut lips
cut gums
cut cheeks
cuts to the tongue or face
chipped teeth
broken jaw
When it comes to protecting your mouth, a custom-fitted mouthguard is an essential part of your equipment from an early age.
While collision and contact sports, like boxing, are higher-risk sports for the mouth, any athlete may face a dental injury in non-contact activities, too, like gymnastics and skating.
What Type of Mouthguard Do I Need?
The best mouthguard is one that has been custom made for you by your dentist.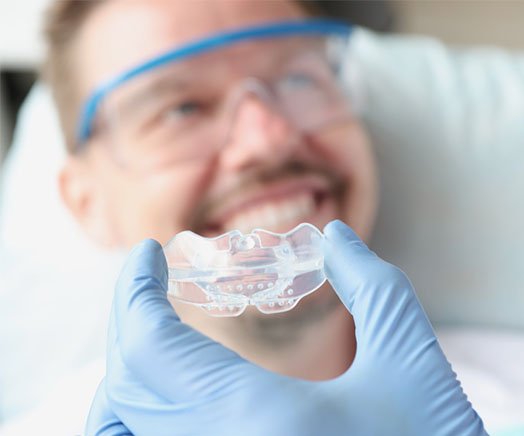 Custom-made Mouthguards
You can get a mouthguard custom-made by your Melbourne CBD dentist. They'll take a mould of your teeth and use it to create a mouthguard, particularly for the structure of your teeth and mouth.
Custom-made mouthguards give you the most protection because they are specifically made to fit the unique shape of your upper teeth. 
This provides a much better fit than stock or boil-and-bite mouthguards, which makes them more comfortable and harder to accidentally dislodge while you're sleeping.
If you grind your teeth, snore, or have sleep apnoea, a custom-made mouthguard is your best option.
Sports Mouthguards in Melbourne CBD
Art De Dente works hard to prevent sports dental injuries in patients.
If you are interested in having a custom-fitted mouthguard for sports made for you or your child, schedule an appointment with your Melbourne CBD dentist today!
Call us on (03) 9642 8955 or request an appointment online.
We are located at Level 17, 190 Queen Street in Melbourne CBD.
Frequently Asked Questions
What does a mouthguard do?
A mouthguard is an oral appliance worn over your teeth. When a mouthguard has been custom-made to fit your mouth by your dentist, it will provide you with maximum protection against the risk of mouth trauma and tooth loss.
Why custom-made sports mouthguards?
These form-fitting mouthguards allow for performance and communication with a precise fit. They will stay in place during play and allow the wearer to breathe and talk easily.
Are mouthguards uncomfortable to wear?
If your mouthguard has been custom-made, it should be comfortable for you to wear while you're participating in athletic activities. Your mouthguard will not interfere with your speaking or breathing normally, and it will be easy for you to keep clean.