Family Dentistry
Dental Care for the Whole Family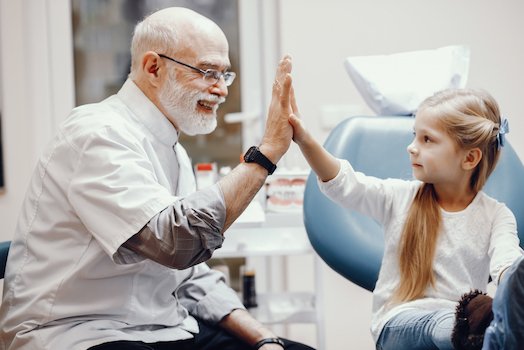 Family Dentistry Melbourne CBD
Family dentists provide dental care from infancy through adulthood.
This allows your dentist to keep a record of the patient's dental care history and needs.
In addition, the whole family can visit the same dentist, which saves time and results in more personalised care.
Starting visits to a family dentist early is important for a child's oral health. A family dentist also helps them maintain proper patterns of tooth care into adulthood.
Family Dentistry Services – What to Expect
Family dentists specialise in a wide range of services for patients of all ages, including:
Regular cleanings – Dental cleanings and 6-monthly exams are extremely important, as they allow your dentist to keep track of your oral health or your child's oral hygiene.
Fluoride treatments – Fluoride and fissure sealants can help combat cavities and are often used in children who are prone to cavities.
Cavity detection and filling – Cavities are the most common preventable childhood health condition. Your Melbourne CBD dentist can identify and treat cavities with fillings.
Orthodontic treatments – We offer consultations and treatments for orthodontic problems.
Gum disease treatments – Periodontal disease is very common in adults. We use procedures like deep cleanings, gum flap surgery, and antibiotics to deal with gum disease.
A family dentist not only understands how children's teeth change with age but also recognises that children may fear going to the dentist.
Your Melbourne CBD dentist has a gentle approach so that children will develop positive associations with dental check-ups and build good oral hygiene habits for life.
Family Dentistry in Melbourne CBD
At Art De Dente Melbourne CBD, we pride ourselves on always delivering the best dental care for your entire family. We accept same-day appointments.
Looking for a family dentist in the Melbourne CBD area? Contact us today!
Call us on (03) 9642 8955 or request an appointment online.
We are located at Level 17, 190 Queen Street in Melbourne CBD.
Frequently Asked Questions
At what age should I take my kid to the dentist for the first time?
Take your kids for their first dental appointment when they are around 6 months old. If you notice that your children have discoloured teeth, bring them in before this.
What should I use to clean my child's teeth?
Use a soft-bristled toothbrush with a small head in cleaning your child's teeth. There are made especially for infants that are perfect to use at bedtime.
How often should I see my dentist?
Everyone should visit the dentist for regular check-ups at least every six months.
Patients who are at a greater risk for developing oral cancer or gum disease may need to see the dentist more than just twice a year. Your Melbourne CBD dentist will help determine how often you should visit the dentist for regular check-ups.