Teeth Whitening
WHITEN YOUR TEETH UP TO 8 SHADES LIGHTER
Teeth Whitening Melbourne CBD
Teeth whitening is one if not the most popular cosmetic dentistry treatments offering a quick, non-invasive and cost-effective way to enhance a smile.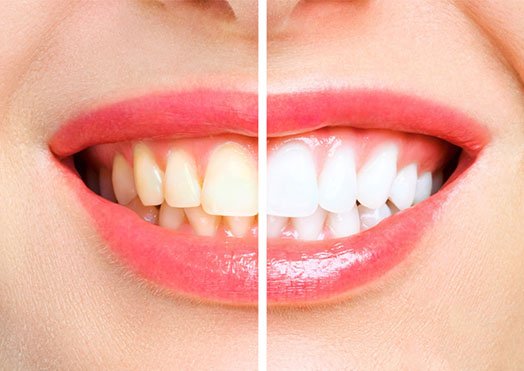 Why Whiten Teeth?
Everyone is different, and just like our hair and skin colour, our teeth colour also vary.
Very few individuals have brilliantly white teeth, and our teeth can also change their colour as we age.
Your teeth can also be discoloured by food and drinks such as tea, coffee, red wine and blackcurrant. Smoking can also stain the teeth.
'Calculus' or tartar can also affect your teeth colour.
Some people may have internal teeth stains, which can be caused by certain antibiotics or by tiny pits in the teeth which take up stains.
How Does Teeth Whitening Work?
Teeth whitening products contain one of two tooth bleaches (hydrogen peroxide or carbamide peroxide).
These bleaches break down stains into smaller pieces, which makes the colour less concentrated and your teeth brighter.
Teeth Whitening Options in Melbourne CBD
Talk to your Melbourne CBD dentist before starting any dental procedure.
If you are a qualified candidate for teeth whitening, here's what we can do to put the shine back on your smile:
In-Office Teeth Whitening
This procedure is called chairside bleaching and usually requires only one office visit.
Your Melbourne CBD dentist will apply either a protective gel to your gums or a rubber shield to protect your gums.
Bleach is then applied to the teeth.
At-Home Teeth Whitening
Your Melbourne CBD dentist can provide you with a custom-made tray for at-home whitening.
In this case, your Melbourne CBD dentist will give you instructions on how to place the whitening solution in the tray for a length of time.
This may be an option if you feel more comfortable whitening at a slower pace, but still with the guidance of your Melbourne CBD dentist.
Out-of-office bleaching can take anywhere from a few days to a few weeks.
Zoom Teeth Whitening 
At Art De Dente Melbourne CBD, we provide Philips' Zoom! In-Surgery Tooth Whitening and Zoom! Take-Home Whitening Kits.
Philips Zoom! Teeth Whitening is the world's #1 'Light-Activated Teeth Whitening System'.
It is a teeth whitening process that can lighten your teeth up to 8 to 10 shades in just one sitting. The complete procedure takes at least an hour and a half.
Pola Light Teeth Whitening
Pola Light is an advanced teeth whitening system that combines Pola's award-winning whitening formulas with a LED mouthpiece that helps accelerate the whitening procedure.
The Pola Light system comes with either Pola Day 6% hydrogen peroxide or Pola Night 22% carbamide peroxide gel, offering treatment flexibility for a range of patient needs.
Teeth Whitening in Melbourne CBD
If you're looking for a change that delivers results fast, long-lasting results to your natural teeth in a safe and controlled environment, teeth whitening may be for you.
Your Melbourne CBD dentist will work closely with you to find the perfect teeth whitening solution for you.
Philips Zoom In-Chair Teeth Whitening for $499
Contact us on (03) 9642 8955 or book your appointment online.
We are located at Level 17, 190 Queen Street in Melbourne CBD.
Teeth Whitening Before and After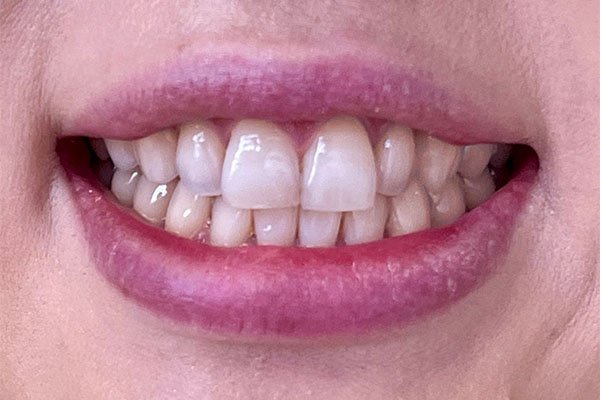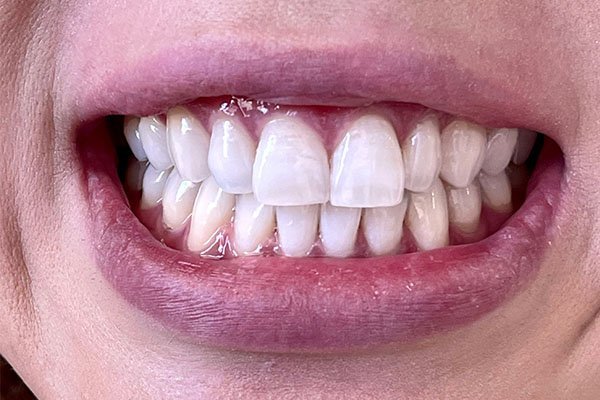 Frequently Asked Questions
Is teeth whitening safe?
Yes. Whitening your teeth using carbamide or hydrogen peroxide under your Melbourne CBD dentist's supervision is safe for your teeth and gums.
Why would I need my teeth whitened?
There are several different reasons why you might want your teeth whitened.
Everyone is different, and just as our hair and skin colour are different from each other, so do our teeth.
There are very few people who are born with naturally white teeth, and our teeth can also become more discoloured as we grow older.
How long will my teeth stay whiter?
The effects of teeth whitening treatment will vary from individual, case to case. The effect is less likely to last long if you frequently smoke, eat or drink products that can cause stains and discolourations to your teeth.