Dentures
Keep Your Smile Looking Beautiful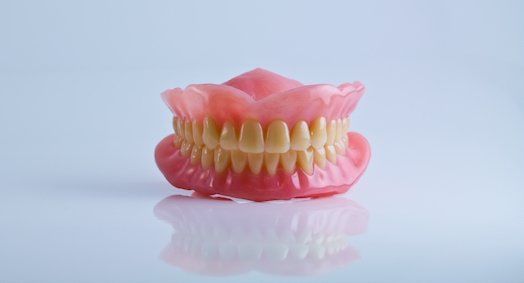 Dentures Melbourne CBD
Dentures are removable dental appliances that replace missing teeth and help restore your smile.
If you've lost all your teeth, whether from gum (periodontal) disease, tooth decay, or trauma, replacing missing teeth will help your appearance and your health.
That's because dentures make it more convenient to eat and speak better than you could without teeth — things that people often take for granted.
Types of Dentures
Conventional dentures — placed after the remaining teeth are extracted, and tissues have healed, which may take many months.
Immediate dentures — for patients who want their teeth extracted and dentures installed the same day.
Partial dentures — made to fill the gap left by missing teeth. They can be removed when needed, helping you feel more confident if you're missing a small number of teeth.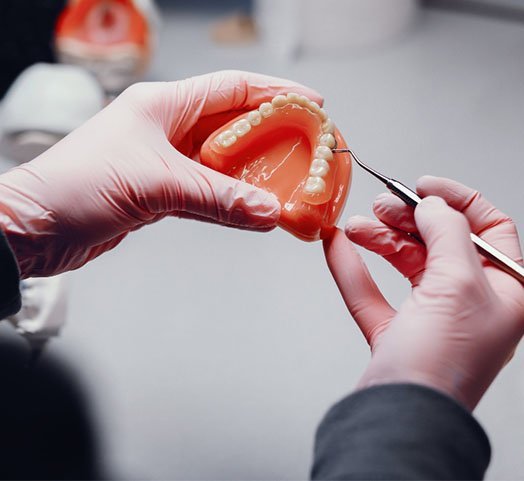 Denture-Making Procedure
The normal denture-making procedure takes a few weeks and several appointments.
Once your Melbourne CBD dentist determines what type of denture is best for you, here are the steps:
Make moulds and impressions and get measurements of the jaw.
Make models, wax forms, and/or plastic patterns in the shape and position of the dentures. You will "try-in" this model, and the denture will be assessed for colour, shape, and fit before the final denture is cast.
Cast a final denture.
Adjustments will be made as necessary.
How to Clean & Care for Your Dentures
Dental plaque build-up on false teeth can lead to bone loss, bad breath, and inflammation of the soft tissue lining inside of the mouth.
To prevent these, it is essential to practice proper denture care:
At nighttime, gently brush the dentures with a soft denture brush to remove plaque. While brushing, removable dentures should be washed over the sink with a small washcloth. The washcloth acts as a cushion in case they drop. It is common for dentures to break if dropped into the sink, on the counter, or on the floor.
Soak them in a denture-cleaning solution overnight. In the morning, brush them again and wear them throughout the day.
They can also be soaked in white vinegar diluted with water to remove or prevent the formation of calculus.
Dentures in Melbourne CBD
Get in touch with us at Art De Dente Melbourne CBD to see if dentures are the right fit for you.
Visit your Melbourne CBD dentist today!
Call us on (03) 9642 8955 or request an appointment online.
We are located at Level 17, 190 Queen Street in Melbourne CBD.
Frequently Asked Questions
What are dentures made of?
Dentures are composed of a plate, metal or acrylic, designed to fit over the bone and soft tissues of your jaw. False teeth are attached to the plate, matching any remaining natural teeth to create as natural a look as possible.
Are dentures the right option for me?
Depending on the extent of your case, we will either make partial dentures in case of only a few missing teeth or complete dentures to replace a full arc of missing teeth.
Dentures are removable and easy to keep clean. The false teeth will discolour like natural teeth, so proper oral care at home and regular dental check-ups will be necessary to adequately take care of your dentures.
Who will make and fit my denture?
Your Melbourne CBD dentist will take measurements and impressions of your mouth, then order your dentures from a dental technician.