OPG-Lat Ceph
Dental X-ray – OPG (Orthopantomogram) and Lat Ceph (Lateral Cephalometric Radiograph)
OPG-Lat Ceph Melbourne CBD
Dental X-ray – OPG (Orthopantomogram) and Lat Ceph (Lateral Cephalometric Radiograph) The OPG or Orthopantomogram is a special type of dental X-ray.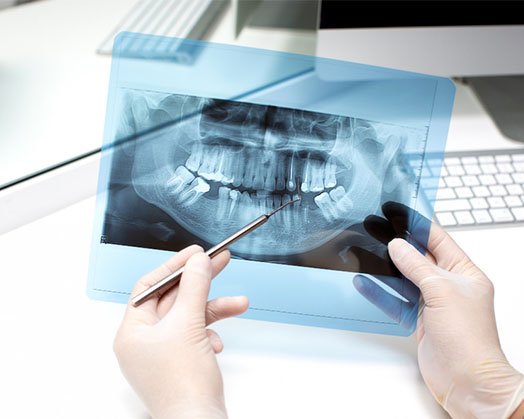 It can provide a panoramic view of your mouth with the upper and lower jawbones and the teeth on a single film.
It can also show the position and the growth of all the teeth, which includes teeth that have not yet fully erupted.
These X-rays are also used to diagnose problems with your jawbone and the joint which connects it to your head.
The Lat-Ceph shows a side view or lateral view of the face. The Lat-Ceph can show your facial contours and bones in profile view.
At Art De Dente, we recommend the Lat-Ceph X-ray, especially in the diagnosis and treatment of various orthodontic conditions.
What happens during an OPG-Lat Ceph X-ray?
Before your X-ray
What to bring:
Your request form
Any relevant previous imaging
Your Medicare card
Preparation – On the day of your OPG-Lat Ceph X-ray
The scans are fast, easy, and they require no preparation.
You will be asked to take off any jewellery or other objects that may obstruct the scan.
During your OPG-Lat Ceph X-ray
For the OPG, you remain standing as the OPG machine rotates once around your head, taking just 10 seconds to complete the scan.
For the Lateral or PA Ceph examination, you remain standing, and the machine obtains the image from the side or back.
All you need to do is to keep very still for the duration of the scan.
OPG-Lat Ceph in Melbourne CBD
At Art De Dente, your Melbourne CBD dentist believes in delivering high-quality dental services to our patients in Melbourne CBD and the surrounding areas.
We're proud to offer OPG-Lat Ceph X-rays as it allows us to provide every patient with more accurate, efficient & successful dental care.
Call us on (03) 9642 8955 or request an appointment online.
We are located at Level 17, 190 Queen Street in Melbourne CBD.
Frequently Asked Questions
What is an Orthopantomogram (OPG)?
An Orthopantomogram is a special type of X-ray that takes images of the lower face, teeth, jaw joints and maxillary sinuses.
What is Lateral Cephalogram?
A Lateral Cephalogram is imaging taken of the sides of the face and jaw that includes soft tissue details such as the chin and tip of the nose.
Lat Cephs are used in the diagnosis and treatment of orthodontic problems like overbites and underbites.