Pola Light
Teeth Whitening
ENJOY A BRIGHTER, MORE CONFIDENT SMILE
Pola Light Teeth Whitening Melbourne CBD
Pola Light is an advanced teeth whitening system that combines Pola's award-winning whitening formulas with a LED mouthpiece that helps accelerate the whitening procedure.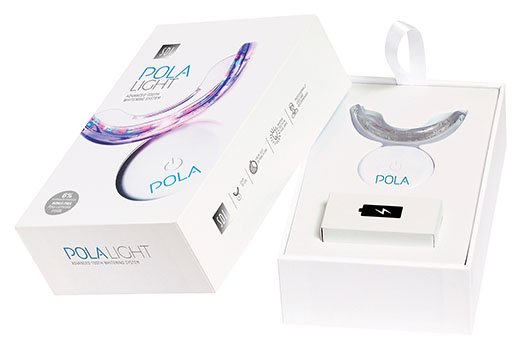 The Pola Light system comes with either Pola Day 6% hydrogen peroxide or Pola Night 22% carbamide peroxide gel, offering treatment flexibility for a range of patient needs.
The mouthpiece is a universal size that treats the top and bottom teeth at the same time, so no trays need to be made.
Pola Light is a low involvement whitening system that is easy to use at home, and it is a more powerful system than those sold via pharmacies and supermarkets.
Tooth Discolouration
Tooth discolouration is when the colour of your teeth changes. They don't look as bright or white as they used to. Teeth may darken, turn from white to other different colours, or develop white or dark spots in places.
Tooth discolouration can come from a variety of causes, such as aging, coffee, tea, or smoking. Discolouration can also occur during the growth process of the teeth due to antibiotics or excessive fluoride at a young age.
Teeth whitening is universal in terms of effectiveness. However, there are some treatments that work less effectively than others. This is why it's important to get a dental exam from your dentist to find out the right treatment plan for you to get your desired results.
Pola Light Teeth Whitening: Whiten Teeth Up to 8 Shades
Pola teeth whitening system lightens and removes stains from the enamel and dentin of the mouth using a gel bleaching process.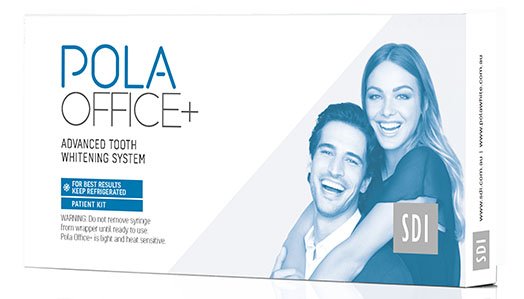 Pola In-Office Teeth Whitening
Hydrogen Peroxide is the active ingredient in Pola whitening.
The light activates the whitening treatment, causing the Hydrogen Peroxide to break down.
This releases oxygen into the tooth enamel, removing and colouration on the surface.
However, the structure of the tooth is not damaged at all.
The Pola light activates the Hydrogen Peroxide so it can penetrate the surface of the tooth better.
Pola Light At-Home Teeth Whitening
Fast, easy and comfortable to use at-home whitening kit with no dental visits or custom-made trays required.
Pola Light Teeth Whitening comes with Pola Day gel
Portable, rechargeable and easy to wear;
Fast-acting, whiter teeth in as fast as 5 days;
Made to safely remove long term stains;
Fully rechargeable for future teeth whitening treatments;
Returns a patient's smile to the whitest natural shade possible;
Pola Light is a safe way to whiten teeth;
Use in the comforts of your own home at a time that suits you.
Pola Light Teeth Whitening in Melbourne CBD
If you would like to discuss Pola Light Teeth Whitening in greater depth, our dental team would be happy to help.
Your Melbourne CBD dentist at Art De Dente will work closely with you to find the perfect teeth whitening solution.
Pola Take-Home Teeth Whitening for $199*
*normally valued at $350
Call us on (03) 9642 8955 or request an appointment online.
We are located at Level 17, 190 Queen Street in Melbourne CBD.
Frequently Asked Questions
Is the Pola in-office procedure painful?
Pola is a completely safe, pain-free procedure that only requires the patient to keep the treatment on their teeth. It takes only one hour to complete, and many patients watch TV or take a short nap during the process itself.
Are there any side effects?
Temporary teeth sensitivity is the main side effect during the treatment, but these go away after a couple of days.
How long is the procedure?
The procedure takes about an hour or so. There is preparation prior to the actual bleaching solution is applied, followed by an hour worth of treatment.
Does my health insurance cover teeth whitening?
Yes. Many health funds provide rebates for teeth whitening services done in dental practices, i.e. Medibank.
Each health insurance provider offers unique health cover, meaning there are different coverage plans for your dental treatment.
Please talk to your Melbourne CBD dentist about treatment item codes and find the eligibility from your health fund.